The store information is primarily used for the invoices of your shopping cart. The information you populate here is to communicate to your customers your business information, as well as contact information in case they need to follow up on an order. To edit this information, navigate to Shopping Cart >> Edit Store.
---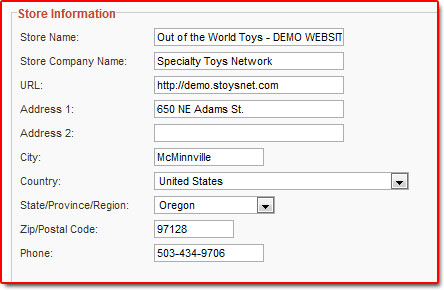 Store Information
The information populated here is included in the invoices sent to your customers. If you have multiple store locations, you should use the information for the store that is primarily managing/processing the orders.
---
Contact Information
This contact information is again used to communicate to the customer. *The most important field in this section is the Email field. This is the email that will receive the email notifications when an order is placed on your site.
---
Store
From here, you can change out the logo that is being used on your invoices. Your Specialty Toys Network project manager should have already created a logo to use on your invoices, but you do have the option to change the logo to meet your needs. We do, however, suggest you stick with these or smaller dimensions for display purposes:
Width = 300 pixels or less
Height = 125 pixels or less
From this section, you also have the ability to change the currency which your site uses. This does not do any conversion to the values you have set for your products.
The "Minimum Purchase" allows you to set a value which the cart total needs to meet to allow a transaction to happen. The cart will not allow the shopper to checkout until he or she has a cart total that is equal to or greater than this value.
The "Free Shipping" field is a global override for all other shipping modules that may be enabled. If you enter a value here and the cart reaches or exceeds that value, then there will be no shipping options for the customer to select during the checkout. If you are wanting to offer FREE shipping and still offer other shipping options then you should look at the different shipping modules and their options. For more on Configuring Shipping Options, click the link.
---
Currency Display Style
The settings here are for display only and have no affect on the match calcualtions on your site.
Description
This content dislpays on the main landing page of your shopping cart.
---
Terms of Service
The terms of service content area is for you enter your terms of service agreement. This is displayed on the confirmation step of the checkout process. To enable this to be a link on the confirmation page you will need to go to the Global Configuration page and select the check box. How to do that.