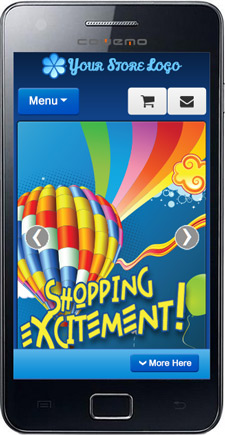 Announcing a new feature only available to Specialty Toy Network members:
The e-Commerce mobile site version is a great way for you to show and sell your products to those customers who are using smart phones. Unlike the standard mobile site component, the e-Commerce mobile version was developed to support full product display, promotional marketing, and shopping cart checkout – all on the mobile platform.
---
Preview the e-Commerce mobile site by visiting our demo store on your smart phone : www.demo.stoysnet.com
If you would like to complete the full checkout process, you are welcome to use one of our test credit card numbers.
| Number | Card type |
| --- | --- |
| 4242424242424242 | Visa |
| 4012888888881881 | Visa |
| 5555555555554444 | MasterCard |
| 5105105105105100 | MasterCard |
---
note: Due to the complexities involved in preparing the e-Commerce mobile site, there is not a self-service component in place, like there is for the standard mobile site. To get your e-Commerce mobile site up and going, please complete the e-Commerce Mobile Sign Up form.
Here are some great reasons to consider adding ecommerce mobile version to your STN site:
58% of all US consumers already own a smartphone.
60% of mobile shoppers use their smartphones while in a store, and another 50% while on their way to a store.
Mobile-based searches make up one quarter of all searches.
95% of smartphone users have searched for local info.
Over 1.2 billion people access the web from their mobile devices.
Global mobile traffic now accounts for 15% of all Internet traffic.
61% of people have a better opinion of brands when they offer a good mobile experience.
90% of people move between devices to accomplish a goal, whether that's on smartphones, PCs, tablets or TV.
---
Comparing Mobile Display Options
Here are several side-by-side comparisons of how your site displays on a typical smart-phone. The left column is showing the site without any mobile mode enabled; the middle columns shows how pages look when the standard mobile component is enabled; and the right column is showing the site when mobile e-Commerce mode is enabled.