The USPS shipping module uses the weight of your products to determine the shipping cost.This means that your products will need to have a shipping weight or else the USPS calculator will not work properly. If there is no weight assigned to the product the the calculator will default to 1 LB for each product that does not have a weight set.
The USPS shipping module gets the shipping costs directly from the USPS website. It takes the store's Zip code and then the customer's zip code and the total weight from the shopper's cart to calculate costs.
The first portion of the USPS shipping calculator is the configuration screen: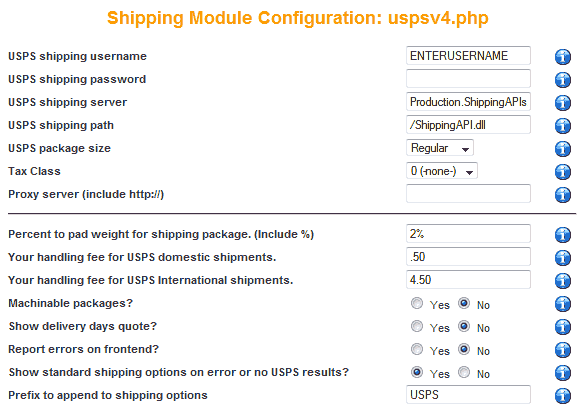 On this screen you will see the many options that you have for setting up your USPS shipping. The first group of fields you can get this information from the team at Specialty Toys Network if it isn't already filled in.
NOTE: If there is already a username and password included in the module, we do NOT recommend changing it. The default account will give the same calculations as your USPS account, but your account may not be set up to host APIs.
The second group of fields has to do with the padding of your product weights and handling fees. "Machineable packages?" is asking if your shipments can be handled by a machine. Non-machinable packages have a higher cost for shipping. Here is a list of items that are not machinable:
A parcel more than 34 inches long, 17 inches wide, or 17 inches high.

A parcel less than 6 inches long, 1/4 inch thick, or 3 inches high.

A parcel that weighs less than 6 ounces or more than 35 pounds.

A parcel containing more than 24 ounces of liquid in glass containers, or 1 gallon or more of liquid in metal or plastic containers.

An insecurely wrapped or metal-banded parcel.

A can, roll, or tube, or wooden or metal box.

Books, printed matter, or business forms weighing more than 25 pounds.

A high-density parcel weighing more than 15 pounds and exerting more than 60 pounds per-square-foot pressure on its smallest side.

A film case weighing more than 5 pounds or with strap-type closures, except any film case the USPS authorizes to be entered as a machinable parcel under C050 and to be identified by the words "Machinable in United States Postal Service Equipment" permanently attached as a nontransferable decal in the lower right corner of the case.

Parcels with characteristics (such as inadequate packaging) that could result in damage to the contents of the mailpiece, other parcels, or postal machinery if mechanical sortation is used.
The "Show delivery days quote?" is asking if you would like to display the shipping commitment to the shopper on the frontend of the website.
"Report errors on frontend?" is off by default and is used to determine what the problem is when there is a problem. For example the USPS server may go down and now shipping value is being calculated. By turning this on it would let you know what the error is. If you do turn it on don't forget to turn it off after testing.
The show standard shipping options on error is just for the occasion that something goes wrong with the communication to USPS. Prior to turning this on you will first want to set up the standard shipping options. Look at the standard shipping help file to learn more >>
The "Prefix to append to shipping options" field is for you to define what will be displayed on the order to indicate what shipping option was selected.
The next series of options is for configuring what USPS shipping options you want to offer and the text that will disply for "Show delivery day quotes".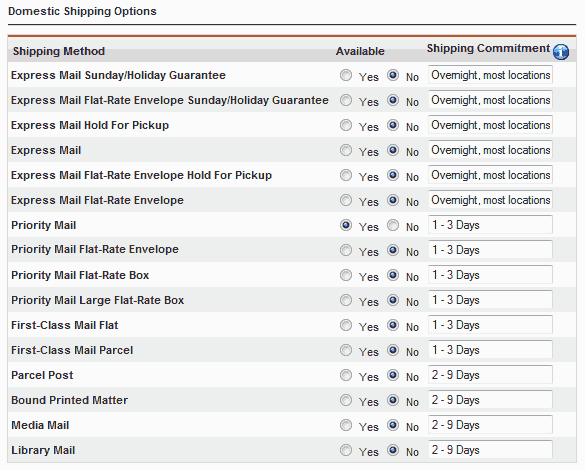 The "Shipping Commitment" text is what will display if you have the "Show delivery days quote?" checked for "Yes". This allows you to set the text for what you are promising. To understand what the different options mean we ask that you visit the USPS website>>> .
Express Mail – A mail class that provides expedited delivery service for mailable matter subject to certain standards. It is available in five basic domestic service offerings (Same Day Airport Service, Custom Designed Service, Next Day Service, Second Day Service, and Military Service). Express Mail International Service is available between the United States and most foreign countries. Express Mail is a USPS trademark.
Priority Mail – First-Class Mail that weighs more than 13 ounces and, at the mailer's option, any other mail matter weighing 13 ounces or less. Priority Mail provides expedited delivery. Any mailable matter may be sent as Priority Mail. Priority Mail is a USPS trademark.
Parcel Post – A subclass of Standard Mail with rates based generally on weight and zone.
Bound Printed Matter (BPM) – Standard Mail (B) weighing at least 1 pound but not more than 15 pounds that consists of permanently bound sheets of which at least 90% are printed with advertising, promotional, directory, or editorial matter (or a combination of such matter).
Media Mail® – service is a cost efficient way to mail books, sound recordings, recorded video tapes, printed music, and recorded computer-readable media (such as CDs, DVDs, and diskettes). Media Mail can not contain advertising except for incidental announcements of books. The maximum weight for Media Mail is 70 lbs.
Library Mail – A Standard Mail subclass for items sent to or from or exchanged between academic institutions, public libraries, museums, and other authorized organizations. Books, sound recordings, academic theses, and certain other items may be mailed at the Library Mail rate if properly marked.
The next configuration options has to to do with international shipping.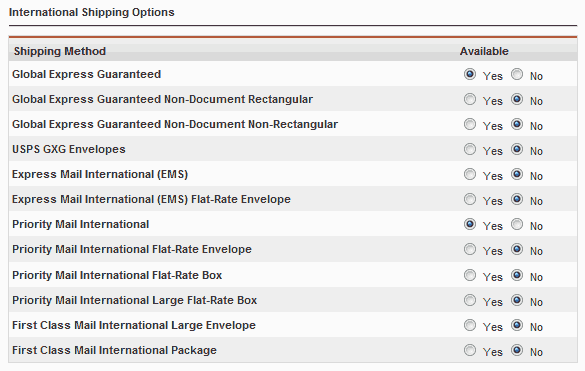 Here you can select which shipping options you want to provide for international shipping. By default the STN cart is not set up to allow international shipping in the checkout process. This can be added so please contact your STN manager to discuss this as an option. There are business decisions that will want to think through prior to adding this as an option.