The mobile version of your site requires that you enable it to make it work.
To get to the configuration of the mobile component go to Components >> Mobile Configuration

---
Enable The Mobile Site
To enable the mobile version of your site yo need to make sure the check box is checked.

---
Mobile Styling

1. The logo displayed on the configuration page is the same logo that is used for your shopping cart and the invoices that are generated from the shopping cart. You cannot change the logo on the mobile configuration page. It is only here for display purposes and to help with setting the mobile site base color.
2. The base color option gives you the ability select the color to use on your mobile template. Click on the color chip to get the color selector popup. Then choose your color.

3. You can adjust the corners of your mobile site. By moving the slider to the right the "roundness"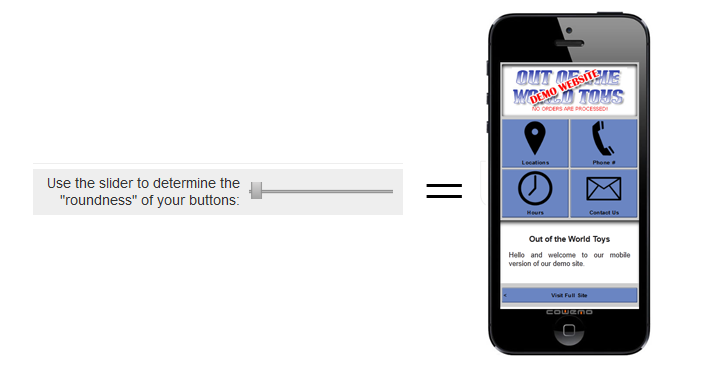 ---
Locations/Contact Selection
On your mobile site you may not want all of your contacts to be displayed. This can be managed by just selecting the contacts that you wish to be used. In the example below I have selected 2 contacts that are for the stores but did not select the employee's contact information.

---
Hours
The hours for your location/s will be taken from the contacts record. To set these up or make changes go to Components >> Contacts >> Manage Contacts. Select the contact/store that you want to make the changes to. At the bottom of the contact form you will see the "Availability" section. This is where you can set the times. For more information on managing "Availability" for a contact check out the help category for the Contact component.

---
Contact Us/Email
Besides the Contact records you choose to enable you also will want to set the email address for the mobile site. This allows the user the quick and easy link to contact you via email.

---
Custom Welcome Content
Because the greeting message you want give to the mobile user is typically different than the message that you want to give to the user that is on a computer, you have the ability enter the welcome content to be presented. To enable it you will need to make sure the check box is checked.

NOTE: If you are placing images in your content please be aware that that images do not scale down for you so make sure your image dimensions are appropriate for the mobile browser. We recommend a width of no more than 250 pixels. This also stands true for tables and any other type of content items (i.e. Video, forms, etc…).