The Frontpage Slideshow is an optional component that allows you to make and manage large graphics that link to areas or products on your site.
---
Front end slide: This how a slide looks on the front end (visitors see it) of our Demo Site.

---
Create new slides, or manage existing slides
Go to the Components dropdown and click Components > Frontpage SlideShow

---
Frontpage Slideshow manager
You will see the Slide List: These are the slides in the Admin back end. Click the name to edit a slide. You can change the image, link, name and any overlay text.

---
You can also create a NEW slide by clicking the "New" icon at the top right.

---
Slide setup options:
Name it, publish it, and (optionally) set start and end dates.

"Custom Text" can be created to override the introtext. All the text you add can be read by Google, even if you choose not to display it. Uncheck the box for any text you don't want to show to your visitors.

---
User group access: Leave the access as "Public." Anyone who comes to your site will see this slide.
Link the slide: Past a URL into the bottom box. Navigate to the page, manufacturer's products or toy on your site and copy the URL out of the browser's address bar. You can also choose one of the menu choices on your front end to link to, such as "home."

Upload (or change) a slide image: Upload an image from your computer. You will have created one at the size indicated in the slideshow "Configuration."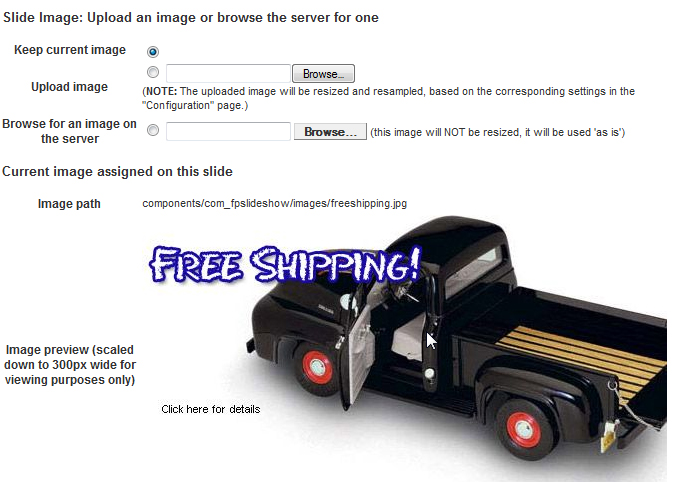 Save, open the the site's front end in another browser tab (CTRL+T), and refresh (CTRL+SHIFT+R) to check your work.