To use this payment processor, you will need a PayPal Business account set up and working.
The PayPal payment processor communicates with your PayPal account during checkout.
When your shopper selects PayPal as their payment option, they will be taken to the PayPal website to complete the payment.
Your website and PayPal account will update one another.
---
To set up the PayPal payment processor, go to Shopping Cart >> Store >> List Payment Methods
---
If there is already a payment processor named PayPal (new), open it (click the name), and enter your account information. If there is no payment module with the name PayPal (new) you will need to create it.
The "General" tab allows you to modify the active state, payment method name which we recommend you to remove the (new), the payment method code (displayed on the order), the shopper group association, discount and the processor's list order.
---
The "Configuration" tab is for your business PayPal account information. It requires your PayPal API username, password and signature which is provided by PayPal and can be found on your business PayPal account.
Mode = This is for setting your account into testing mode by selecting the Sandbox option. To run in test mode you will need to set up a test account through developer.paypal.com and then log into your test accounts on sandbox.paypal.com
Username = This username is provided to you by PayPal and is not the same one that you use to log into PayPal.
Password = The password is also provided by PayPal and is not the a password used to log into your PayPal account or your STN website.
Signature = This is also provided by PayPal. To see how to get your API credentials contact PayPal support. Here is also a video provided by PayPal that shows you how to get them https://www.youtube.com/watch?v=TMP2llxOuKo
Payment Status Mappings = The ability to assign order status values will help you mange your orders paid with PayPal as well as identify quickly possible payment or order issues. To learn more about the management of your order status values click here >>
---
Here is a video from PayPal on how to obtain your API credentials.
---
Creating the PayPal Business Module
If the PayPal payment module is not present in your list of pyament module options then you will need to add it. Doing this is fairly simple and you'll just need to follow these steps to do so.
1. Go to Shopping Cart >> Store >> List Payment Methods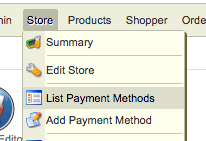 2. Click on the + NEW button on the top right
3. Name the method "PayPal", give it a code (unique from other payment methods) that will make sense to you since this is the code displayed on invoices, add the class name "ps_new_paypal" & select the type "PayPal (or related)"
4. Click on the Save button on the top right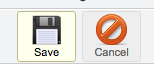 5. Now open the new PayPal payment method you just created to add in the credentials.
6. For the next step click on the Configuration tab and populate the API signature credentials you have gotten from PayPal.
7. Set it to "Live" not "Test".
8. Make sure the order status values are what you want. To manage the order status options available to you click here >>
9. Click Save.
10. Test it out on the front end by purchasing something. You can always refund or cancel the order.