When people speak of keywords nowadays it can mean multiple things but in the SEO world it means one thing: the best words or 2-4 word phrases that best describes the product or content on the page.For example say we want to create good META information for a Schylling "Jack in the Box"so that we feel confident that anyone on the web looking for a Jack in the Box will be able to find ours. So prioor to writing up a short and long description we should first do a little investigation as to what people are using when looking up a jack in the box in Google. I'm going to be rferring to Google on this as they have the majority on search engine usage and they also provide some helpful free tools to help you get your site seen online.
This next step does require a Google account which is free to set up and use. There are many online tools that will assist you in getting a list of keywords to use but for this example I'm going to use Googles. After you have created your account and added Google Adwords as one of your programs. You will want to then go to "Tools > Keyword Tool" which is where I am going to look up keywords for the phrase "Jack in the Box".
Selecting the "Get keyword ideas" will return suggested words or phrases that people are searching for and may match to this item or topic.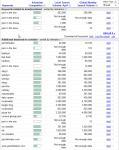 << click on image to see
What we quickly notice with this keyword phrase is that there is a lot of competition for this phrase due to the fast food chain Jack In The Box. So we should define our phrase a little better by adding "toy" to the end of it. By doing this it will refine what searches we are looking for and deliver to us keywords or phrases that are better suited to a toy and not the fast food chain.
<< click on image to see
Now with the extra word toy added to the phrase we immediately see keywords and phrases that make sense and we should consider including in our content and META description and keywords.
When looking for keywords for a product or content page you should also use your knowledge of the product or industry and apply some common sense to help people find your items. For example we could of also added the word "tin" to the Jack in the Box keywords or even the manufacturer's name since some the shoppers out there may be collectors and sre looking for perhaps a "Schylling Jack in the Box".