Print QR (Quick Response) codes for your online products
QR codes are 2D barcodes that smart phones can read. They can encode any text, but are usually used for web page URLs. You can print out QR codes for any product on your site, using the "QR Codes" Report function in your site's Shopping Cart component.
Here are a few ideas for toy stores:
Window Displays. Print QR codes for each item in your window display. People can literally 'window shop.'

Put the codes on the shelves next products that have good videos. Add the Youtube code to the products, link to the products.

Let people during the holiday crush 'jump the line.' I scan the codes in your store, add the items to my cart, pay, and checkout online with "in-store pickup."

"Secret" products not easily found by browsing your site. Discounts only for phone users.
More ideas for QR Codes: 13 Creative QR Ideas from Fast Company
If you would like QR codes for single products or content pages on your site, you can use this free service to Create single QR Codes
The uses for QR codes are in their infancy. Please share your genius ideas with others!
---
QR Code Reports
In the back end Admin of your site, go to Shopping Cart > Reports. The "Reports" menu item has a drop-down with "Sales," "Customers, and "QR Codes"

---
Filter the codes you want to print
You can generate codes for every product on your site, in a Category, or by Manufacturer, or a combination of the two.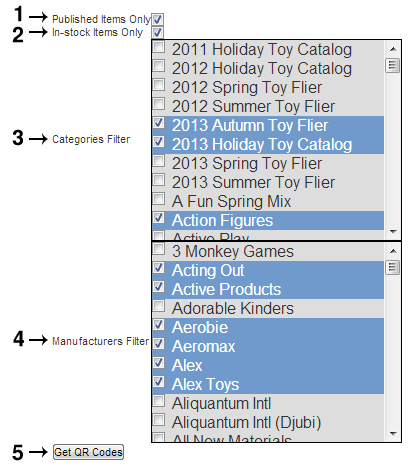 Published Items

Check the box to hide any products that aren't marked as "published" on the site

In-stock Items Only

Filters out products not meeting your currently defined stock requirements

Category Filter

When no categories are selected, you'll generate codes for EVERY category (this filter is ignored)

Select one or more categories to print ONLY those products.

Manufacturers Filter

When no manufacturers are selected, this filter is ignored.

When manufacturers are selected, unselected manufacturers' products are ignored.

Get QR Codes

Click to generate the printable QR code sheets using the applied filtering
---
What you get when you hit "Get QR Codes" button:
You will see a long page of QR codes with product titles.
Use your browser's 'Print Preview' (where available) to see how this will lay out on a standard piece of paper.

Print the QR code report page(s) with your browser's print function ('Ctrl' + 'P', or [ile -> rint])

Some browsers only print the first page! Upgrade your browser, or try a different one to print all pages.